About Samjhana Moon
Director and Co-founder
Samjhana is a visionary photographer and natural cycles mentor who empowers women to connect with their cyclical nature and discover their true radiant self. She guides you to align with the Inner Seasons of your menstrual cycle, to manifest with the Moon phases, and to explore the archetypes of the feminine – so you can reach your full creative potential. Over the past 9 years Samjhana has guided hundreds of women to say yes to their true radiance, allowing them to see themselves anew on an insightful photographic journey in nature. Her ability to see a person's soul and capture their unique beauty on camera has helped many women transition from self-critical to self-confident, and supported their personal, professional and spiritual growth.

Samjhana is devoted to offering an alternative lens for women that challenges the media's distorted projection of beauty and releases the taboo around menstruation. She is founder of Sacred Feminine Photography and co-creator of the World's first moon and menstruation clock along with a range of beautiful tools to support and guide your menstrual cycle adventures.

Samjhana was People's Choice Speaker for TEDx Totnes​ in 2015​. ​Watch her talk here: http://j.mp/TedxMoon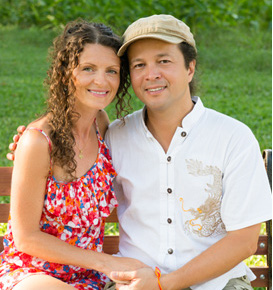 As healers of The Wounded Feminine, she and her husband Charlie Taillard are dedicated to connecting women and men to the seasons and cycles of nature. Together they launched the World's 1st menstruation and moon clock in 2015. It has since transitioned into a comprehensive set of tools for exploration of the natural cycles.
Samjhana's story – From Period Pain to Period Pleasure
"In my teens I suffered unbearably painful periods and was prescribed the contraceptive pill to suppress my cycle for 18 years. This never felt like a healthy solution and I had many failed attempts to come off it, until I discovered the work of Alexandra Pope. I was so relieved; her book The Wild Genie meant I could finally begin my healing journey. With the help of many menstrual educators I've completely transformed my relationship with my monthly bleed and I'm delighted to say that a few mild cramps are all I experience today.
Working with my menstrual cycle over the last 10 years, I've learned that making period peace isn't about mastery or control, it's about committing to a new relationship with our body: becoming educated about how our hormones affect our body and brain chemistry and being mindful of our daily internal weather patterns so that we can respond to them with tenderness and wisdom.
Painful and/or irregular periods are extremely common and are often a sign that your hormones and lifestyle are out of balance. If you suffer with severe symptoms, then I can truly empathise. I can also say with confidence that you can move past this; period pain is an option. Being mindful of the energetics of the whole cycle is the first step towards your healing. I believe that our cyclic nature is a potent personal development tool that empowers us to walk our own path, create a lifestyle that we love and make a unique contribution to the world that promotes positive change.
I'm not a qualified doctor, nurse, nutritionist or practitioner; I'm a visionary artist and mentor with a deep love of nature and the wild. I use my photographic art to transform perspectives, working with nature's elements to inspire connection and awaken people to the wonder of the life-giving force that lives within us all. My intention with Inner Seasons is to provide tools that complement the work of many great authors of Moon and menstruation. Natural solutions are circulating in the growing sisterhood around the world; a sisterhood of women who are committed to becoming fluent in the language of our bodies and living in alignment with our natural rhythm."

Samjhana's services include: 
Online Classes and Workshops – Coming Soon!
If you'd told me three months ago that I'd be writing this testimonial I'd have laughed! To say I was sceptical would be an understatement. I REALLY didn't think that what seems like a simple "clock" could make any difference to my energy, pain or productivity levels. I'm happy to say I was wrong!
Working in sync with my menstrual cycle is one of the best gifts I've given to myself. It's taught me how to listen to my body, my period pain has decreased significantly and my energy levels are through the roof! It's even deepened my relationship with my husband.
I'm a busy business owner and the last three months have been my most productive in ages – the proof is in my bank account!
I'm a busy woman living in the City and before I had my Inner Seasons clock my life was less intentional and more of impulsive. Now that I'm working with my Inner Seasons I'm experiencing more clarity, creativity and managing my time and energy efficiently.
I love my clock, it's been really helpful for me in rekindling my relationship to my cycle and it's allowed me to feel good about scheduling time for rest. I feel more at peace now and l know that I have the solution to my problems inside me. Thank you Samjhana!
I was already tracking my cycles and living according to them before I had my Inner Seasons clock, but there's something about having a visual reminder above my desk that helps me to plan my life more in accordance with my flow!!!
I'm more accepting of my cyclic nature now and this has improved my relationship with myself. I really enjoy each phase more and don't feel the need to be in the energy of late spring/summer all the time when I feel my most productive and emotionally clear!!! The darkness of autumn and winter supports me to be more inward and reflective and the value I've place on this increases each month!!!