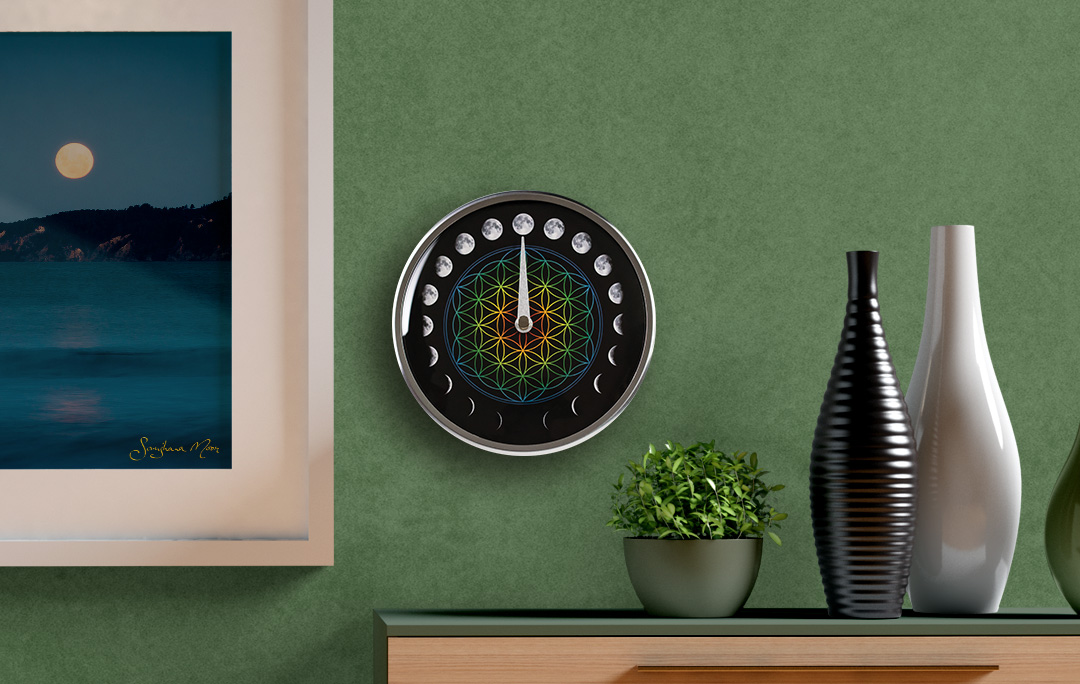 Moon Phase Clocks
As our beautiful Moon sweeps around the Earth, its gravitational pull has an incredible effect on nature and bodies of water. With daily awareness of the energetics of the current Moon phase, both men and women can have healthier bodies, discover a greater connection with nature, bring balance to the emotions and add gusto to all that we wish to magnetise into our life.
Our battery powered Moon Phase clocks bring the energetics of the current Moon phase directly into your home or work space and make the perfect gift for any Moon lover. The Moon cycle becomes especially relevant to women once they're no longer in the reproductive years, as it enables them to continue living in a cyclical way once their periods have ended.
Our 3 beautiful designs are geometrically aligned and the hand makes a full rotation in 29.5 days so you'll always know what phase the Moon is in.
Yep, they don't tell you the time of day, they tell you the current Moon phase! So cool right?
IMPORTANT NOTICE TO RESIDENTS IN THE SOUTHERN HEMISPHERE:
Our clock faces are designed for the northern hemisphere and the hand travels in a clockwise direction. This means the shape of the moon on the clock will be a mirror image of what you actually see in the southern hemisphere sky. For example the crescent moon as it wanes from full to new in the northern hemisphere appears like a C shape in the sky, whereas in the Northern hemisphere it is reversed. 
What's in the box?
Moon Phase Clock –15cm / 5.90" Ready to hang (requires 1 x AA battery not included)
Inspirational picture card with original photography by Samjhana Moon
Downloadable quick start guide: How to align and manifest with the four moon phases
Did you know: The Moon's cycle is 29.5 days which is similar in duration to the average woman's menstrual cycle. You see, women are intrinsically connected to the cycles of nature. Interestingly the four phases of the Moon have remarkably similar qualities to the menstrual cycle. Many women like to track the Moon cycle; this becomes especially relevant once we're no longer in our reproductive years, as it enables us to continue living in a cyclical way.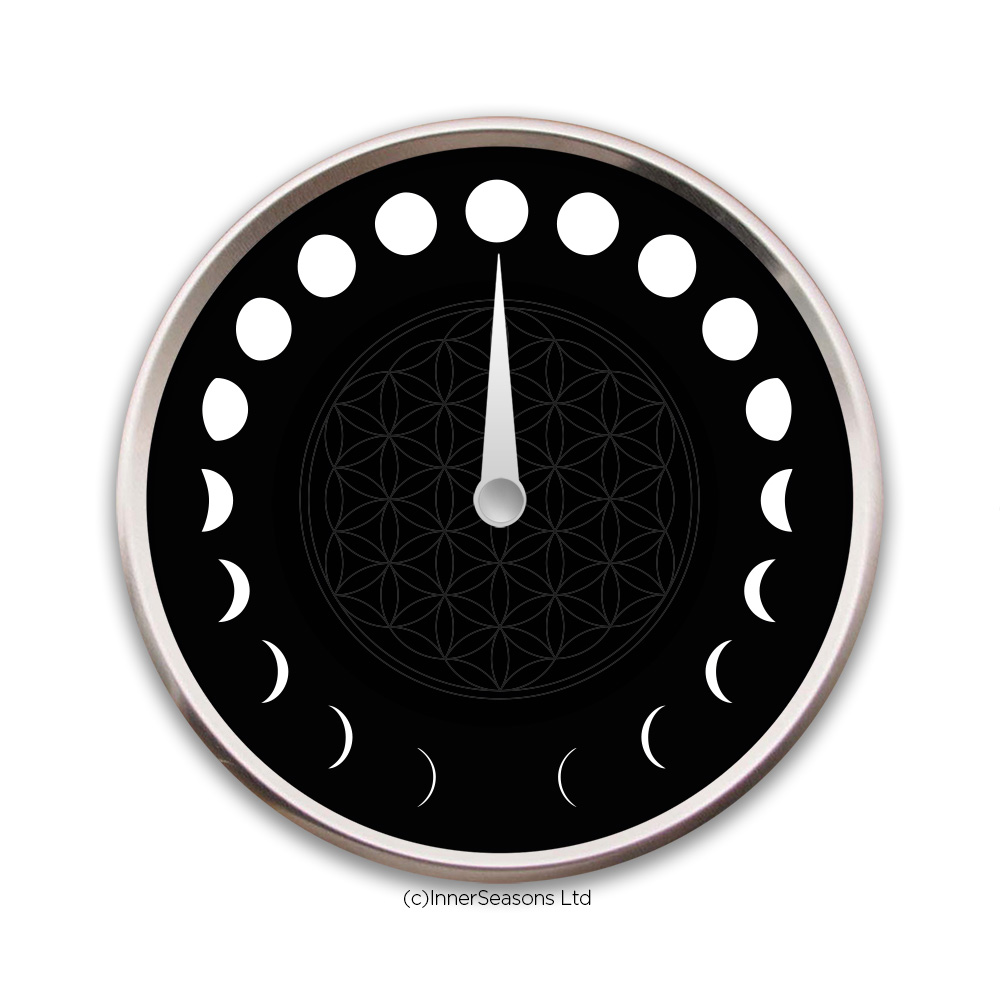 Our signature clock that has incredible wow factor. Perfect if you like minimalist design.
The glossy Moons and Flower of Life pattern stand out beautifully against the matt black background of this Moon clock. Yep, it doesn't tell you the time of day, it tells you the current Moon phase! So cool, right?
£34.97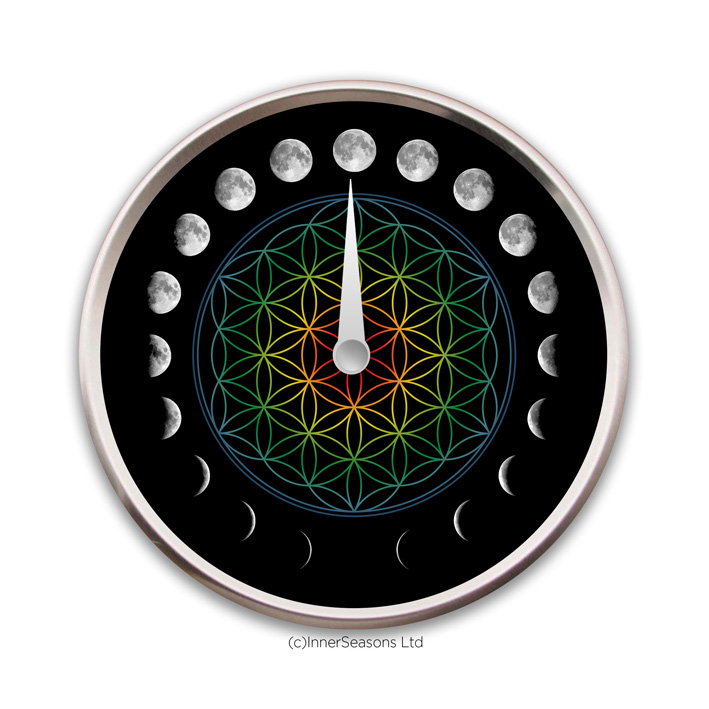 Full spectrum, vibrant colour and sacred geometry with the Moon. 
The vibrant colour of this Flower of Life design brings full spectrum, sacred geometry into your space. It makes a lovely focal point for your altar or meditation space while telling you the current Moon phase.
£34.97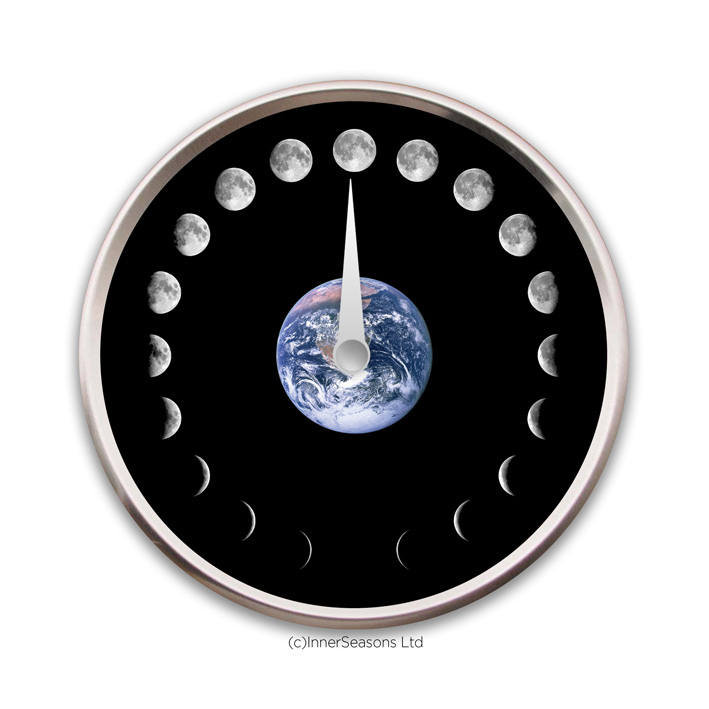 Our beautiful planet Earth and silvery Moon pictured here in the cosmic dance.
The photographic images on this clock show the Moon's cosmic dance around the Earth. It's perfect for Moon-gazers, Geometrists, Astronomy and Astrology lovers.
For the geeks: the Earth and Moon appear with the accurately sized ratio as they are in the solar system.
£34.97
I love my Moon clock! We have it in the office. It's great if you can't see the Moon and you want to know which phase you're in. A quick glance and you're completely up-to-date. It just needs a tiny adjustment once a month to keep it 100% accurate.
 Brilliant idea, beautifully made!
BUNDLE AVAILABLE
Save £12 when you buy 2 clocks and our 48 page ebook 'Natural Cycles' Special bundle price of £64.94  (Normally £76.94)
My moon clock is a beautiful reminder of what is going on energetically in my life with the moon's influence. I love how it helps me to visualize the current Moon phase.
I am so very happy with Inner Seasons Moon clock. I have Chronic Lyme's disease which can present painful challenges at certain times of the lunar cycle. My Moon Phase clock helps me chart the parasitic load in my system, on full moon the little darlings have 'wild sex' then incubate waiting ever patiently for the New Moon phase to arrive, here they give birth, reeking havoc on my delicate system.
The moon clock helps me to anticipate and welcome my good days and prepare for my more challenging days, what a terrific tool it has been and continues to be. I also use it for my crystal cleansing and celebration.
Thank you Samjhana.