Women's Circle Cloth
Beautiful cloth as a central altar and inspirational focal point to enhance your Women's Circles and can also be used as a personal meditation mat. 
Our Menstrual Cycle Map is printed in full colour and includes at-a-glance guidance for the four phases, or Inner Seasons. The cloth is designed specifically as a centerpiece with the words for each Inner Season facing outwards in each of the four directions.

The Circle Cloth is 1 meter square (39.4 inches) and includes:
50+ words with influences and activities for each Inner Season
29 days of the menstrual cycle
Menstruation and Ovulation highlights
Hormonal flow (Oestrogen, Testosterone, Progesterone)
Feminine Archetypes
Moon phases
When I use this cloth to enhance my women's circles I like to add red ribbons at the corners to separate the space into the 4 phases. Women can then be invited to sit and move into each of the Inner Seasons.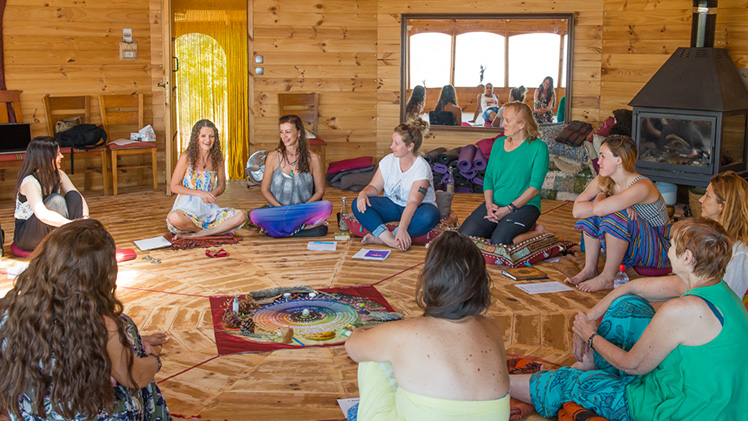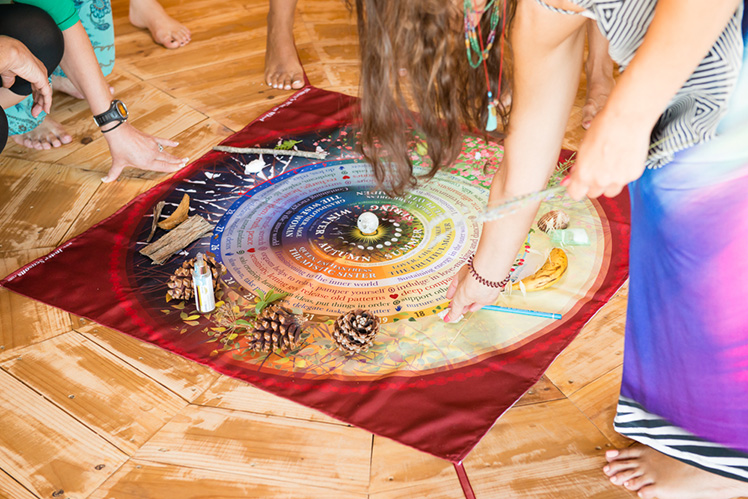 PLEASE NOTE: This product is made to order and takes 7-14 working days for delivery, depending on your location. 
There are 2 fabric options available both hemmed with black thread.
Organic Cotton Poplin
From Field-to-Loom, certified 100% organic cotton, this Circle Cloth has a lovely 'earthy' feel to it and the colours are slightly muted. This tightly woven textile is fairly opaque for its light weight of 110gsm, with little show through of the print on the reverse side and is very taut all over. The natural untreated cotton does crease easily so if you plan to travel with your cloth the Monroe Satin option below might be a better option, unless you like ironing or don't mind the creasing.
1m Square Organic Cotton Circle Cloth £70.00
Monroe Satin – polyester/cotton blend
The draping of this beautiful fabric is smooth and fluid and has a medium weight of 160gsm with vibrant colours and a crisp, sharp design. The textile is opaque with a strong tight weave and a sateen finish giving a little shine. The main advantage of this fabric over the organic cotton option is that it doesn't crease so easily, so if you plan to travel a lot with your Circle Cloth this may be a better choice. 
1m square Satin Circle Cloth  £70.00
"I'm so happy with my Inner Seasons Circle Cloth!!! 🙂
It's so lovely to sit upon while meditating and feels so good to be surrounded by this beautiful wisdom, that actually comes from within.
I bought the Organic cotton cloth and I can't wait to use it in my women's workshops when I'll share about our beautiful menstrual cycle."