Chart Poster - Inner and Lunar Seasons
The Chart poster is a beautiful focal point to bring inspiration to your natural cycles. With at-a-glance guidance for the 4 phases of the menstrual and lunar cycle.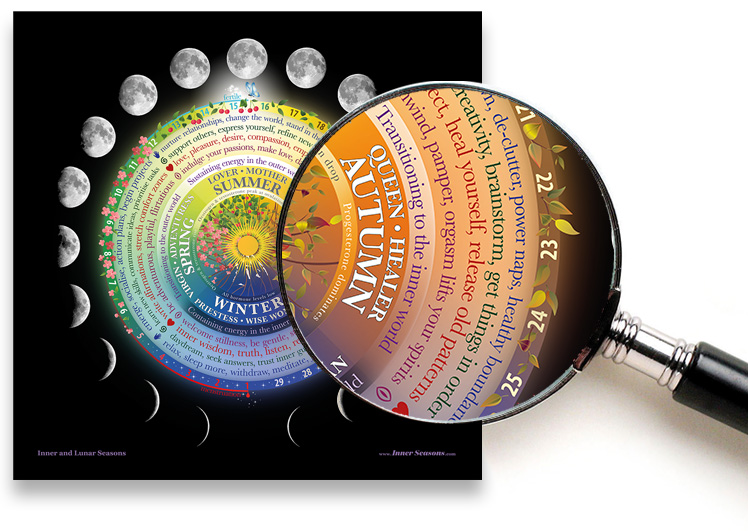 Our chart poster is a beautiful reminder to help you live in harmony with your menstrual and the lunar cycle. It provides at-a-glance, practical guidance for the 4 Inner and Lunar seasons. Showing you the best times to take part in activities that have a positive influence on your body, mind and spirit.
With 50+ keywords for each phase of the cycle with icons for different areas:

We've listed optimum times in the cycle for learning new skills and stretching comfort zones, mediation and inner guidance, nurturing relationships and expressing yourself, relaxation and much more!
Other rings include:
Menstruation and Ovulation highlights
Hormonal flow (Oestrogen, Testosterone, Progesterone)
Feminine Archetypes
Size: 30cm/12″ square
170gsm paper. FSC certified mix and carbon-neutral printing
Available as singles for £6, or as saver packs of 5 or 10 posters. A beautiful gift for your women friends, clients or sister circles.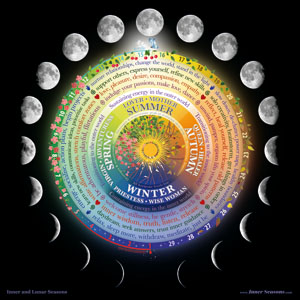 I'm more productive, more authentic and getting better results with everything I do. I've worked with my feminine power for years and have struggled to find a mentor who can teach me more than I already know. Yet Samjhana blew me away. The Inner Seasons concepts shared deepened everything I knew and took it to the next level. Since implementing this I've gained greater awareness of how my own menstrual cycle interacts with the cycle of the moon and how I can use this to drive my business forward.
Thank you Samjhana for re-awakening this most beautiful part of my soul. The Inner Seasons philosophy has re-connected me to a hugely important part of myself as a woman. Through Samjhana's wisdom, her great heart, and her incredible visions, she reminded me to journey deeper within and 'see' that my true connection and understanding of who I am and the emotions which flow through my Inner Seasons that make me complete as a woman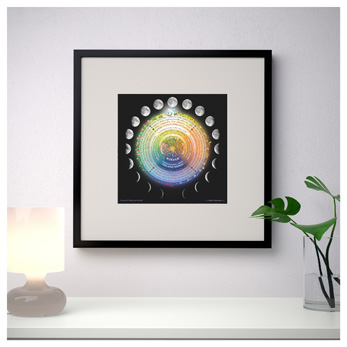 Shown here with frame (not included)