The World's 1st automated menstrual cycle and moon phase clock – Nature's gateway to your full potential
Practical tools and easily accessible guidance to discover the heightened abilities aligned with your hormonal cycle and how to manifest your best life with the power of the moon.
Many women experience a rise and fall of energy throughout the month, but only a few harness the full creative power of their natural hormonal rhythm.
It only takes a few minutes a day to tap into this amazing resource of energy and start living your life in an empowered and creative way… with the Inner Seasons Wisdom Dial: the World's 1st automated menstrual cycle and moon phase clock. Being mindful of the Inner Seasons of your menstrual cycle will help you access to the heightened abilities and unused power of each phase giving you confidence in every area of your life.
Our body and brain chemistry responds to internal phases that are governed by the effects of our hormonal cycle which has 4 distinctive phases. So, in reality, there are at least four versions of you expressed throughout your cycle. By understanding each of these phases or Inner Seasons intimately, you'll be kinder to yourself at times when you're likely to feel sensitive and you'll be able to push yourself at times when your body chemistry will enjoy a challenge.
Boost your energy, sexuality, creativity and emotional intelligence as you explore how your natural hormonal fluctuations affect you and develop a positive new relationship with your body.
Live your life to its fullest potential by aligning yourself with your natural cyclical rhythm. Inner Seasons helps you shift from period pain to period peace, track fertility and ovulation, reduce pms symptoms and more!
What are Inner Seasons? Every month women's fertility transitions between ovulation and menstruation, mirroring the 4 seasons of nature. Winter is when we have a periodand feel a desire to rest and hibernate, Summer is when we're fertile and feel our most confident and sensual. Each moon phase is also linked to the inner seasons. New moon is introverted winter energy (menstruation). Full moon is expansive summer energy (ovulation). Women can work with both the moon phases and menstrual cycle to add another dimension to enhance their energetics.
Millions of women around the world are now recognising the Inner Seasons as a gateway to becoming the very best woman that they can be – and you can join this revolution!
Your Wisdom Dial is a complete system designed for busy women who want practical guidance on how to live in harmony with their menstrual cycle and/or the moon phases. We include:
Wisdom Dial – 20cmx 20cm (7.8 inch x 7.8 inch), ready to hang (1x AA battery required)
Illustrated 48 page full colour guidebook packed with practical, easy access information.
Chart Poster – 30cm x 30cm (11.8 inch x 11.8 inch)
Understand your hormones and the moon phases to align your schedule to your natural cycles to become more successful in all that you do and achieve more in less time.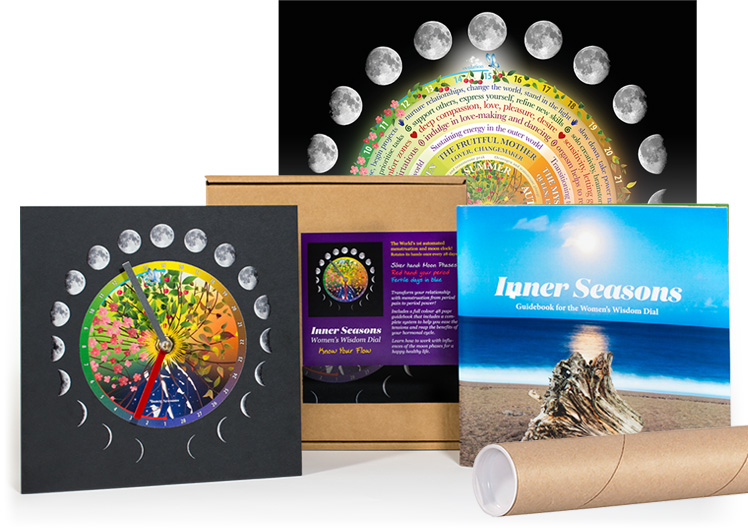 Wisdom Dial
This clock-like dial is a quality product made in the UK using recycled paper and resin, the face of the clock looks remarkably similar to slate. The hands move forward on a 29-day cycle and are easily shifted to align with your menstrual cycle and the moon phase once a month. The moon's gravitational ebb and flow affects our wellbeing too and there are many health-related benefits when working with the moon. The most exciting aspect is using the new and full moon's energetics to manifest the life you desire.
Guidebook for the Wisdom Dial
Included with the Wisdom Dial is a guidebook beautifully illustrated by Samjhana Moon. For each phase of the cycle you'll find practical, easy access information to help you understand your body's rhythm and live life in harmony with your hormonal and lunar fluctuations. Each season also has a dedicated section to guide your partner in how to best support you, and how anyone can work with the moon's phases to become more aware of their fluctuating energetics.
You'll learn the optimum times in your cycle for learning new skills and stretching comfort zones, for meditation and inner guidance, for nurturing relationships, for relaxation, decluttering your space – empowering yourself to live your full potential by aligning with your natural cyclical rhythm and using the power of the moon phases to manifest the life you desire.
Chart Poster
The Chart poster is a beautiful focal point to bring inspiration to your natural cycles providing at-a-glance guidance for the 4 phases, or 'Inner Seasons'. On the poster are 50+ words aligned with each season to remind you of the influences and activities that enhance and support your life.
Life is so much more enjoyable and in-flow when you're mindful of the Inner Seasons of your menstrual cycle and the moon phases.
Some of the benefits women are experiencing as a result of cycle awareness are:
Loving being a woman every day of the month.
Reduced stress levels, feeling healthier and happier.
More joy in every aspect of life.
Reduced or eliminated period pain.
More space by achieving more in less time.
Discovering a natural way to manage birth-control.
Enhanced fertility awareness and increased libido.
Rekindling of the fire in their sexuality and creativity.
Enhanced relationships at home and work.
Heightened intuition and problem solving skills.
Renewed childlike sense of adventure.
Manifesting the life you dream of with greater ease.
With daily awareness of your Inner Seasons you'll start seeing benefits straight away and within a few months you'll be wondering how you ever lived any other way. Get the Inner Seasons wisdom system that has already changed thousands of women's lives. The Inner Seasons Wisdom Dial is the go-to tool for you to harness the power of your full potential.