I love my Moon clock! Brilliant idea, beautifully made! We have ours in the office. It's great if you can't see the Moon and you want to know which phase you're in. A quick glance and you're completely up-to-date. 
Moon Phase Clock
Cosmic Dance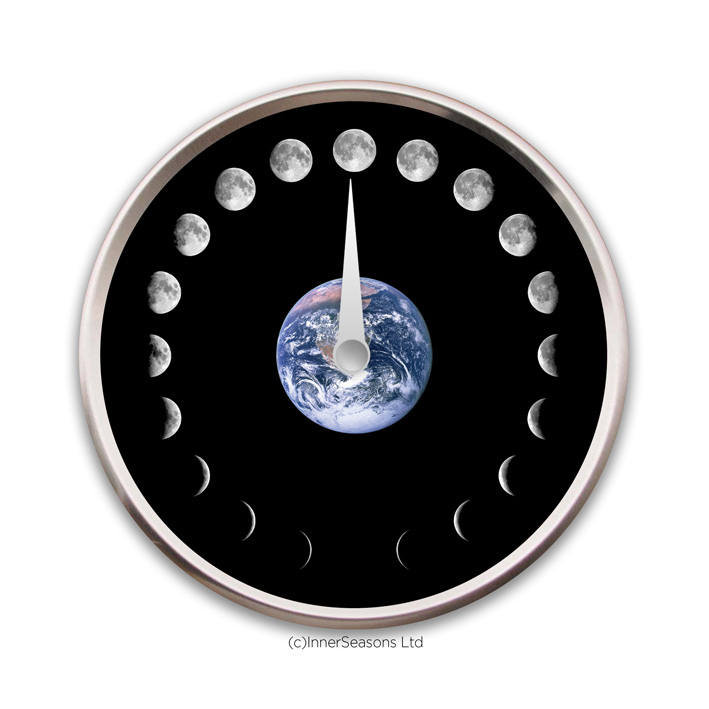 Detailed photographic images of the moon show the Cosmic Dance of the lunar orbit around the Earth. The perfect gift for Moon-gazers, Geometrists, Astronomy and Astrology lovers.
Geeky fact: The Earth and Moon on this clock are accurately sized, just as they are in the solar system.
Our Moon Phase clocks make a full rotation in 29.5 days and are battery-powered so you'll always know what phase the Moon is in.
What's in the box?
Moon Phase Clock –15cm / 5.90" Real glass domed window and aluminum bezel. Ready to hang (requires 1 x AA battery not included) 
Inspirational picture card with original photography by Samjhana Moon
Downloadable quick start guide: How to align and manifest with the four moon phases
Did you know: The Moon's cycle is 29.5 days which is similar in duration to the average woman's menstrual cycle. You see, women are intrinsically connected to the cycles of nature. Interestingly the four phases of the Moon have remarkably similar qualities to the menstrual cycle. Many women like to track the Moon cycle; this becomes especially relevant once we're no longer in our reproductive years, as it enables us to continue living in a cyclical way.
Shipping from our UK warehouse. Pricing FROM:
UK £6
EU £9.30
USA £14.38
Rest of World £13.50
Free Worldwide Delivery When You Spend £50.00

FREE WORLDWIDE DELIVERY
OVER £50.00


1 YEAR GUARANTEE
FOR ALL CLOCKS

FAST FRIENDLY
CUSTOMER SERVICE
WARRANTY
Our products come with a one years warranty, however this does not affect your statutory rights as a consumer under The Sale of Goods Act. If you do have any issues after a year, we will still do our best to ensure you remain a satisfied customer. We will happily repair a clock, free of charge, even if it falls outside the warranty date.
IMPORTANT NOTICE TO RESIDENTS IN THE SOUTHERN HEMISPHERE:
The moons pictured on the dial will not appear the same as they are in your sky. For example the crescent moon as it waxes from new to full in the southern hemisphere appears like a C shape in the sky, whereas here in the Northern hemisphere it is reversed.
To clarify: The new and full moon will be the same, it will only be the waxing and waning moon that will appear differently on your dial. The dial is still fully functional and will still be correct in the waxing and waning phase, just the shape of the moon will be mirror image of what you see in the sky.