The World's 1st automated menstrual cycle and moon phase clock comes complete with a chart poster and 48-page guidebook designed for busy women who want practical guidance on how to live in harmony with their menstrual cycle and/or the moon phases.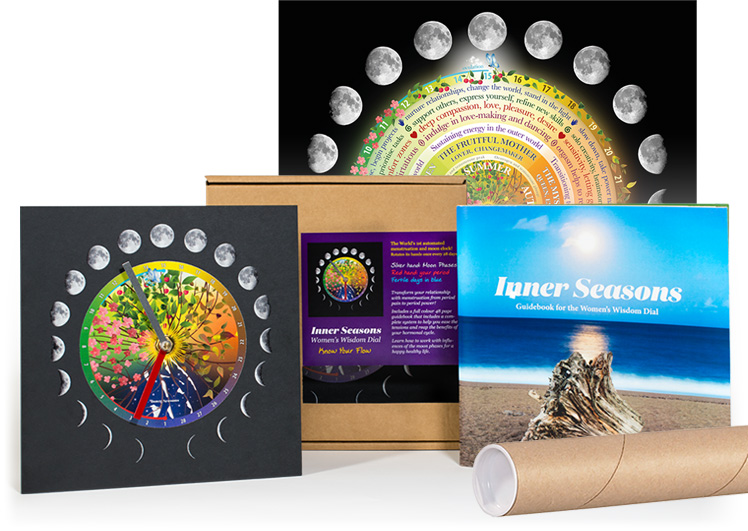 The Inner Seasons Wisdom Dial is a complete system designed for busy women who want practical guidance on how to live in harmony with their menstrual cycle and/or the moon phases. We include:
Wisdom Dial – 20cm x 20cm (7.8 inch x 7.8 inch), ready to hang (1x AA battery required)

Illustrated 48 page full colour guidebook packed with practical, easy access information.

Chart Poster – 30cm x 30cm (11.8 inch x 11.8 inch)

An invitation to join our private Facebook Group
Understand your hormones and the moon phases to align your schedule to your natural cycles to become more successful in all that you do and achieve more in less time. Wisdom Dial
This clock-like dial is a quality product made in the UK using recycled paper and resin, the face of the clock looks remarkably similar to slate. The hands move forward on a 29-day cycle and are easily shifted to align with your menstrual cycle and the moon phase once a month. The moon's gravitational ebb and flow affects our wellbeing too and there are many related health benefits when working with the moon. The most exciting aspect is using the new and full moon's energetics to manifest the life you desire.

Guidebook for the Wisdom Dial Included with the Wisdom Dial is a guidebook beautifully illustrated by Samjhana Moon. For each phase of the cycle you'll find practical, easy access information to help you understand your hormonal cycle and live life in harmony with your body's natural rhythm and the lunar fluctuations. Each season in the book also has a dedicated section to guide your partner in how to best support you, and how anyone can work with the moon's phases to become more aware of their fluctuating energetics. You'll learn the optimum times in your cycle for learning new skills and stretching comfort zones, for meditation and inner guidance, for nurturing relationships, for relaxation, decluttering your space – empowering yourself to be fully expressed by aligning with your natural cyclical rhythm and using the power of the moon phases to manifest the life you desire.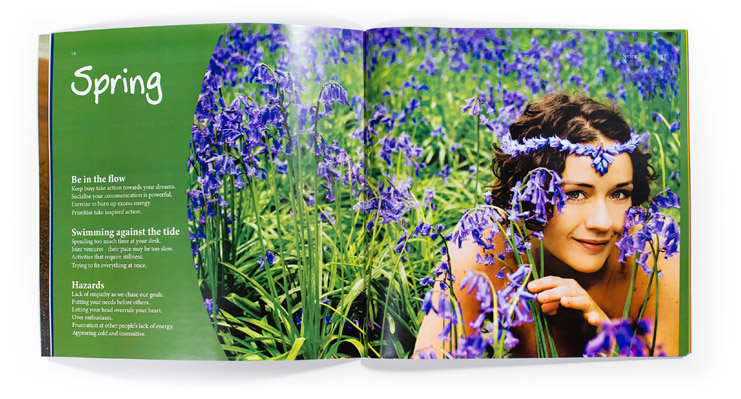 The Chart poster is a beautiful focal point to bring inspiration to your natural cycles providing at-a-glance guidance for the 4 phases, or 'Inner Seasons'. On the poster are 50+ words aligned with each season to remind you of the influences and activities that enhance and support your life. (pic of poster)
You'll also get free access to our Private Facebook Community where we can share experiences and grow cycle-wise together.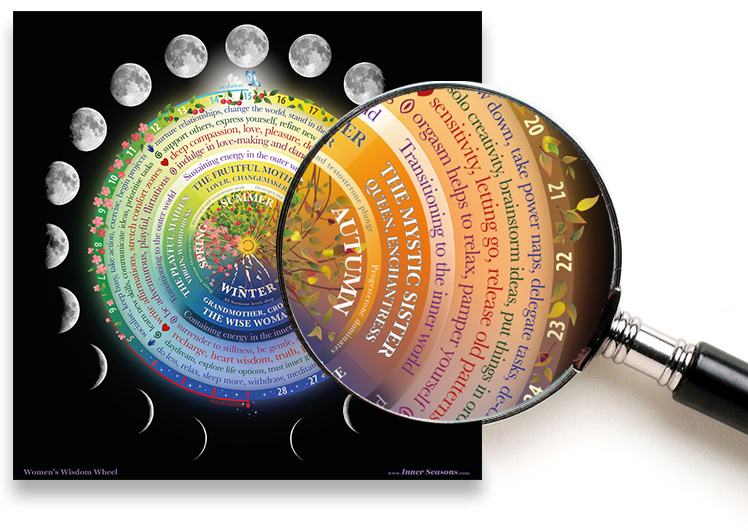 The Inner Seasons Dial is the most exciting product we've seen in years! Green Life - Totnes
If you had told me 3 months ago that I'd be writing this testimonial I'd have laughed! To say I was sceptical would be an understatement. I REALLY didn't think that what seems like a simple "clock" could make any difference to my energy, pain or productivity levels. I'm happy to say I was wrong.
Working in sync with my menstrual cycle is one of the best gifts I've given to myself. I love my Wisdom Dial and what I've learned from the guidebook. It's taught me how to listen to my body, my period pain has decreased significantly and my energy levels are through the roof! It's even deepened my relationship with my husband. I'm a busy business owner and the last 3 months have been my most productive in ages – the proof is in my bank account!
If you're thinking that it won't work, give it try. Like me you'll be glad you did! Julia Bernard-Thompson
I'm a busy woman living in the City and before I had my Wisdom Dial my life was less intentional and more of impulsive. Now that I'm working with my Inner Seasons and I'm cycle wise, I'm experiencing more clarity, creativity and managing my time and energy efficiently.
I love my Wisdom Dial, it's been really helpful for me in rekindling my relationship to my cycle and it's also allowed me to schedule time to rest. I feel more at peace and l that I have the solution to my problems inside me. Jonita D'souza
I was already tracking my cycles and living according to them before I had my Dial, but there's something about having a visual reminder above my desk that helps me to plan my life more in accordance with my flow!
I'm more accepting of my cyclic nature now and this has improved my relationship with myself. I really enjoy each phase more and don't feel the need to be in the energy of late spring/summer all the time when I feel my most productive and emotionally clear! The darkness of autumn and winter supports me to be more inward and reflective and the value I've place on this increases each month! Catherine Hale
WARRANTY
Our products come with a one years warranty, however this does not affect your statutory rights as a consumer under The Sale of Goods Act. If you do have any issues after a year, we will still do our best to ensure you remain a satisfied customer. We will happily repair a clock, free of charge, even if it falls outside the warranty date.
IMPORTANT NOTICE TO RESIDENTS IN THE SOUTHERN HEMISPHERE:
The moons pictured on the dial will not appear the same as they are in your sky. For example the crescent moon as it waxes from new to full in the southern hemisphere appears like a C shape in the sky, whereas here in the Northern hemisphere it is reversed.
To clarify: The new and full moon will be the same, it will only be the waxing and waning moon that will appear differently on your dial. The dial is still fully functional and will still be correct in the waxing and waning phase, just the shape of the moon will be mirror image of what you see in the sky.