Mandala Photo Cards
Original Earth Art mandala prints created by Samjhana Moon. Use these beautiful cards to gift at special occasions or to deepen your own connection with the natural cycles on your altar, in meditation sessions, talking circles and therapy. Decorate your home, work space or treatment rooms. 
There's a lot of love and high vibrations in these earth art mandalas! Each one was created as an offering and prayer for the Earth. The designs are channeled intuitively in conversation with the Earth, rocks and plants. The mandala is professionally photographed and left to return to the earth.
Only £23.00 for the set, that's only £1.35 per card! Limited stock available.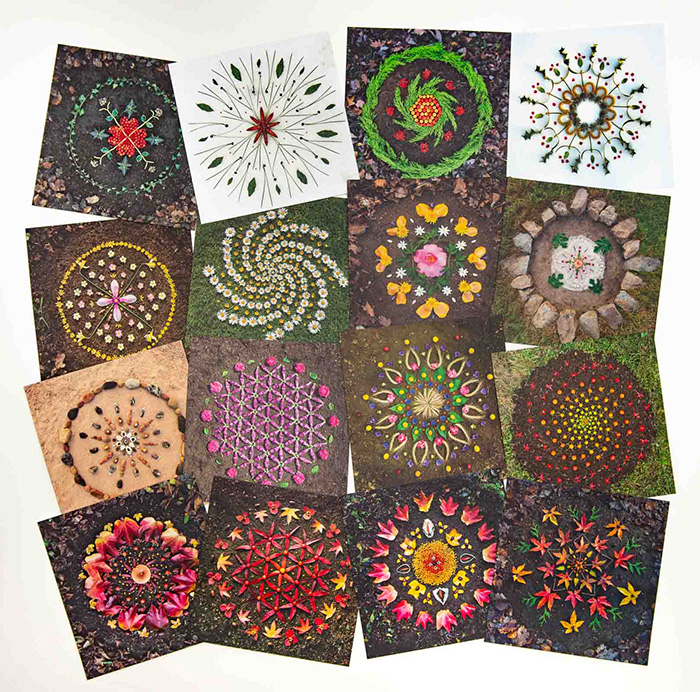 Pack of 17 x Inner Seasons Mandala Photocards 148mm square. Consisting of 16 mandalas with an additional cover card showing all 16 mandalas, packaged in a single brown envelope.
Images are produced to the highest professional quality, printed on FSC approved 300gsm premium card. The reverse of each card has the Title, location and date of the mandalas creation and a brief text about the artist. Plenty of room for you to include a personal message if you gifting these to friends or family.
"Every leaf, flower, berry, twig and stone are collected from the land in a practice of gratitude. I gather intuitively and only take what's in abundance. I chose a location in nature to honour a tree, rock, water feature, ring of mushrooms or whatever calls to my heart on the day. There's no plan or design in my mind as I begin, only a statement as I lay my hands upon the earth; 'I am here to make an offering. I am listening. Show me what you want to express.' The creation of the mandala is an intuitive dance as my fingertips meet the foliage and I allow myself to be guided. I get lost in the creative process and I'm often surprised by what emerges."  Samjhana Moon
£23.00 for the set, that's only £1.35 per card! Limited stock available.